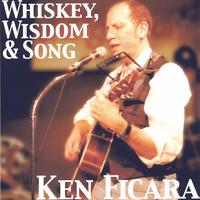 My new CD, Whiskey, Wisdom and Song, is now available, featuring nine original songs and one traditional drinking song, and a cover design and photo by
bobhowe. The originals include favorites like "Preserved Fish" and the radio hit (well, it was played on the radio a few times) "Welcome To New York (Now Just Go Home)."

I'm also playing several shows in the next couple of weeks, including a show on Sunday, March 13, with Mike Skliar at the Parkside Lounge, a great music venue I've played many times with other bands, but not as a headliner. We're playing at 8 p.m. The music is in the back room, and there's a $5 cover:

Ken Ficara and Mike Skliar
Sunday, March 13, 8 p.m.
The Parkside Lounge
317 E. Houston St

Corner of Attorney Street (between Aves B and C).
F/J/M/Z to Delancey Street.</b>

Please come out and support us and this fifty-year-old home for great live music.